Since the pandemic that hit the country and the world in 2019, Ireland took the evidence-led approach to tackle the challenge and so far it has been very successful.
With only 1.12 million cases of coronavirus since the start of the pandemic, the Government has taken strict measures to minimize the spread of COVID-19 while society returns to normal. Despite that fact, there was an increase in the number of cases at the end of 2021 due to the leniency of lockdown. If the condition continues to increase in cases, the government has no other way left to go back for the lockdown to prevent the covid cases.
Lockdown means to cut off from education, sports, and gatherings. Watching cable TV over and over makes you exhausted due to limited facilities. 
Therefore, Irish Cordcutters have listed down free and legal streaming services and websites which keep you entertained. Below you will find a list of websites that happen to stream News, Sports, Movies/TV Shows, Educational Channels, and Kids' Channels, all for free.  
1. Adult Swim (TV Shows, Kids)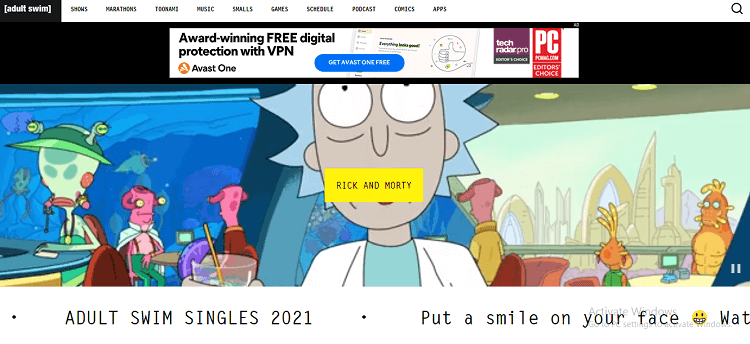 Adult Swim is an American Streaming service that provides animated cartoon series for kids and youngsters as well. It telecasts mockumentaries, sketch comedy, syndicated series, original series, short films, adult-oriented nighttime programming TV shows, series, and more. The Channel broadcast time is 8 Pm to 6 Am. It is easily available in Ireland without any restrictions.
Read More: How to Watch Adult Swim in Ireland
Downloads: Android, iOS, Firestick, Apple TV, and Roku.
2. All 4 (TV Series, Live TV)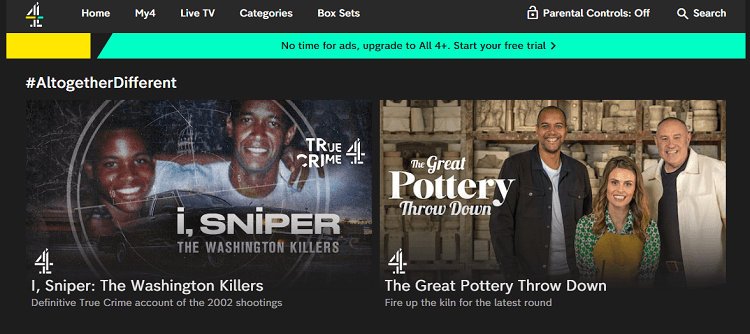 All 4 is a free on-demand streaming service offered by Channel Four Television Corporation. It is a UK streaming service but is also available in Ireland to stream free. The service is launched on November 16, 2006, and offers a variety of programs in genres like Action, Drama, Romance, Thriller, and many more. The service also allows watching Live channels like Film4, E4, Channel 4, More4, 4Music, and so on.
Read more: How to Watch All 4 in Ireland
Downloads: Android, iOS, Firestick, Chromecast, Roku
3. RedBull TV (Live TV, Reality Shows)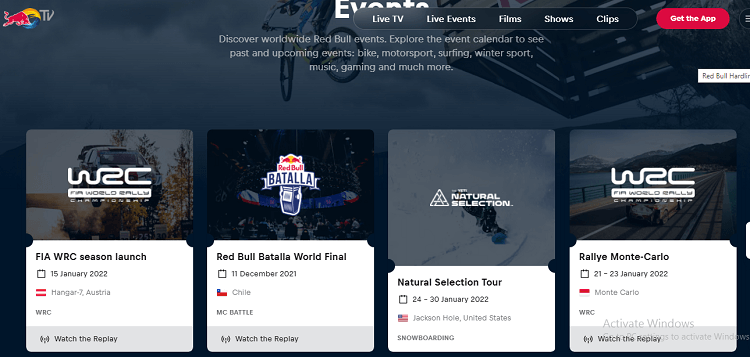 RedBull TV is a Live Event channel that broadcast worldwide and covers all the adventure shows and places including mountain climbing, motorbike events, mountain bicycle races, and much more. In addition, it also telecasts music concerts worldwide, Some Unbranded shows, Lifestyle/Cultural, Reality adventure programs, etc. In other words, you can call it a Live Sports channel because most of its content covers the sports events like Mountian Bike Worldcup, Wings of Life World Run, Rally Racing, and many other sports events.
Read more: How to Watch RedBull TV in Ireland
Downloads: Android, iOS, Firestick, Chromecast, Roku, Microsoft, XBOX One, PS4, and Samsung TV.
4. RTE Player (Movies, Series, Live TV)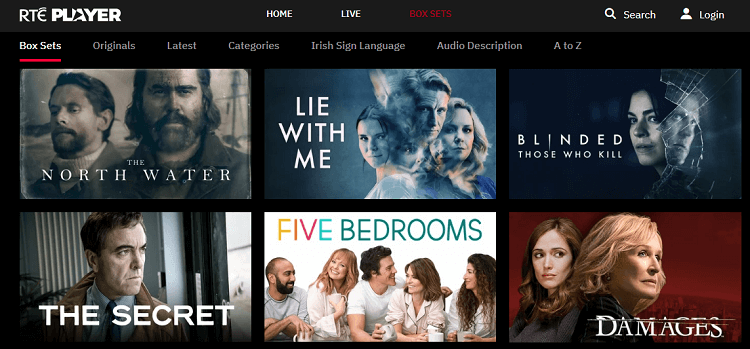 RTE Player is a Live and On-demand Streaming service provided by Ireland Public Media Broadcaster.RTE. The service allows streaming Ireland News, Sports, Current Affairs, entertainment, and local and International Dramas. The Player offers two formats one is for Irish Local residents and the other is for international audiences. The RTE Player was Launched on April 21, 2009. It allows you to watch the programs after 7 to 21 days of the original broadcast. It also streams live channels such as RTE1, RTE2, RTEjr, RTENews, RTE Food, and so on.
Downloads: Android, iOS, Firestick, and  Chromecast, 
5. TG4 (Live TV, Shows)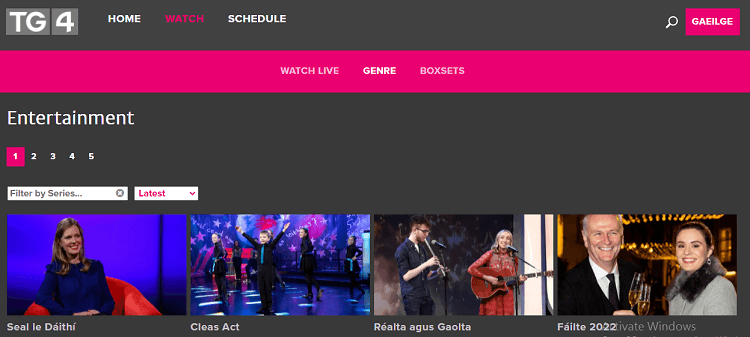 TG4 is a free Ireland television service that was the third national station to be launched in Ireland. Through its On-demand services, you are able to catch up on the news streaming, entertainment, music, sports, music concerts, etc. The daily Irish-language program schedule is its core service. It provides seven hours of programming in Irish supported by a wide range of content in other languages, but mostly English. TG4 launched on 31 October 1996. It is formerly known as Teilifís na Gaeilge.
Downloads: Android, iOS, Firestick, and Chromecast
5. Toon Goggles (Kids, Shows)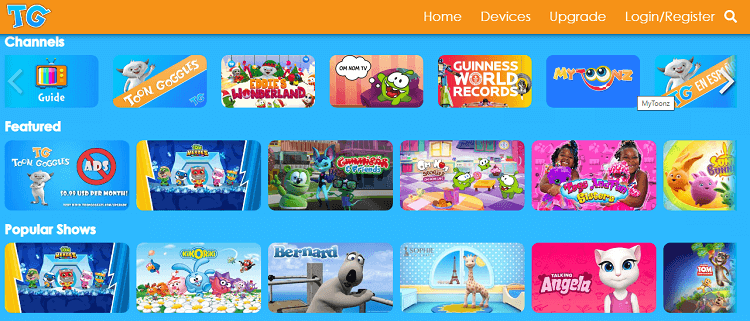 It is a free American On-demand service for children. It provides animated series, games, Music, Live-action shows, and other cartoon-oriented programs for free. Its content is compliant with COPPA (Children's Online Privacy Protection Act). On the other hand, this service also allows new animators to promote their shows on their channels without any charges to pay. It is easily accessible in Ireland.
Downloads: Android, iOS, Chromecast, and Roku, 
6. Virgin Media Player (Movies, Series, & Live TV)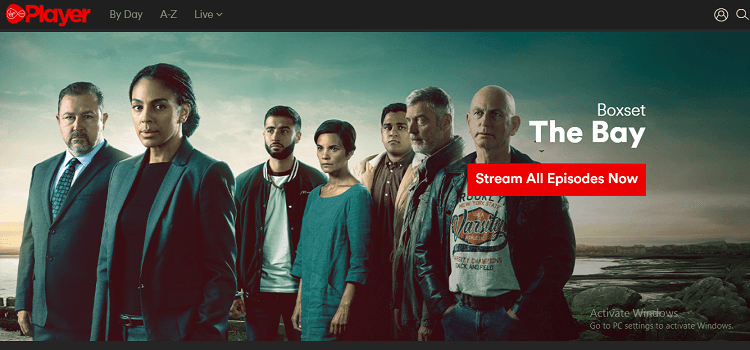 Virgin Media Player is also one of the popular free streaming services of the Republic of Ireland that allows watching the official content of the Virgin Media Television channel, ITV, TV3, 3e's, and more. Most of the programs are available to stream on this player after the broadcast on the Official channel.
Downloads: Android, iOS, Firestick, and Chromecast.
7. IMDB TV/Freevee (Movies, TV Shows)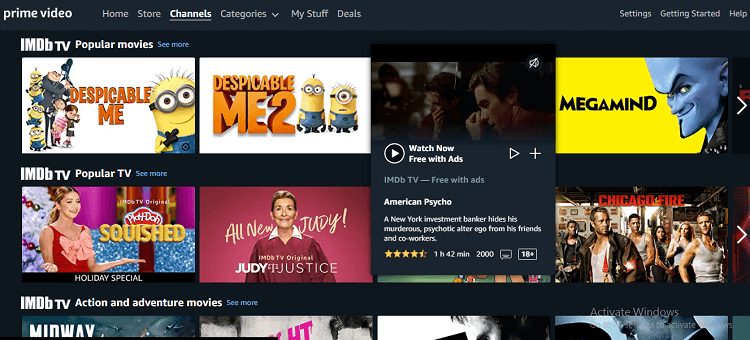 IMDB TV or Freevee is a free Video-on-demand(VoD) streaming service owned by Amazon. It is a free but ad-supported service that has content from Warner Bros, Sony Picture Entertainment, MGM Studio, and else with skippable 30-second ads in between the Movies and Shows streaming. It is a globally streamable service with vast content like Amazon Originals and Prime Video. Its categories include Kids, Sports, Movies, Live TV, and so on.
Read more: How to Watch Freevee in Ireland
Downloads: Android, iOS, and Firestick.
8. Crackle (Movies, TV Shows)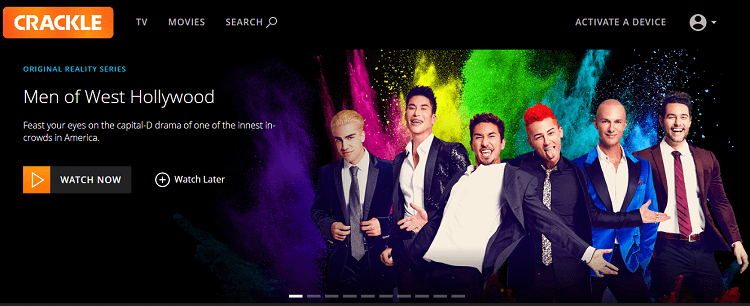 Crackle is a free and premium streaming service that has content for all age groups. This service is owned by Chicken Soup for Soul Entertainment. Its content consists of original series from sony pictures and its subsidiaries like Sony Pictures Classics, Sony Pictures Worldwide Acquisitions, Columbia Pictures, and more. It is restricted in many countries but luckily its service is accessible in Ireland.
Read more: How to Watch Crackle in Ireland
Downloads: Android, iOS, and Firestick
9. Crunchyroll (Shows, News, Games)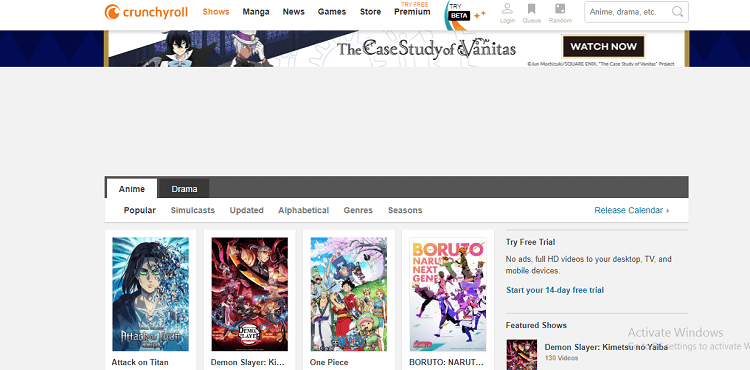 Crunchyroll is a free streaming service for anime series. It is an American company founded in 2006 by a group of students of University of California, Berkeley graduates. The company focused on Anime series as well as Manga and Dorama. It has 100 million registered users. Crunchyroll offers 1000+ Anime shows, more or less 80 Manga Titles called Crunchyroll Manga, and 200+ East Asian Dramas, although some of its content is also premium based. It had passed 5 million premium users in 2021. It is accessible to the audience of the Republic of Ireland without any restriction.
Read more: How to Watch Crunchyroll in Ireland
Downloads: Android, iOS, Firestick, Chromecast, Roku, XBOX One, and PS4.
10. Mubi TV (Turkish Shows)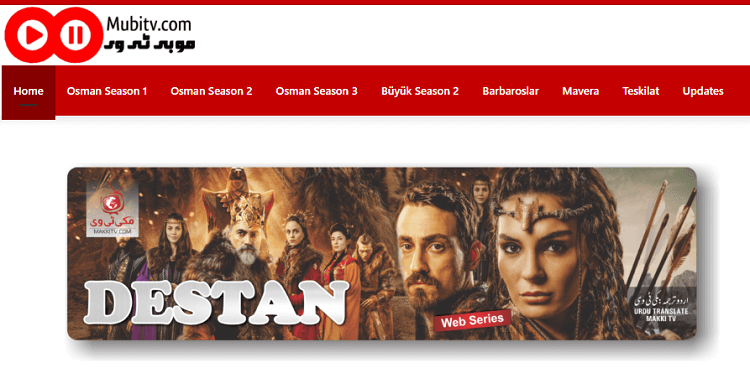 Mubi TV is a free streaming service that provides Turkish drama series like Kurulus Osman, Dirilis Ertughrl, Mehmet Kutulzafar, Filnta Mustafa, Barbaroslar, and more. This service has been in operation since 2016. It is one of the most popular services containing Turkish content. It is easily available in Ireland and does not require any registration or Subscription.
Read more: How to Watch Mubi TV in Ireland
Downloads: Android
11. Rakuten Viki (Movies, Shows)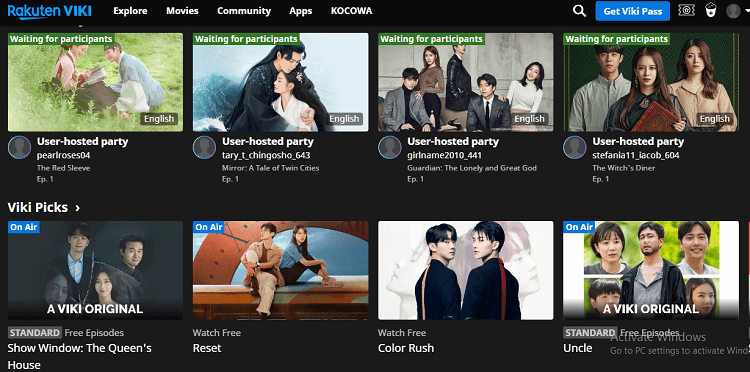 Rakuten Viki is a free streaming service website. It allows you to stream videos with the provision of subtitled content in 200 languages. It is an American streaming service that contains the content of South Korean dramas, Singapore dramas, and else. It was founded by Razmig Hovaghimian, Changseong Ho, and Jiwon Moon in 2007. Later on, it was sold in 2013 to Rakuten. It has 22 million monthly active users. Not all of its content is free to stream, it also has a premium subscription for its exclusive shows. It is easily available in Ireland for free streaming.
Read more: How to Watch Viki TV in Ireland
Downloads: Android, iOS, Firestick, Chromecast, and Roku.
12. CBC News (Live News)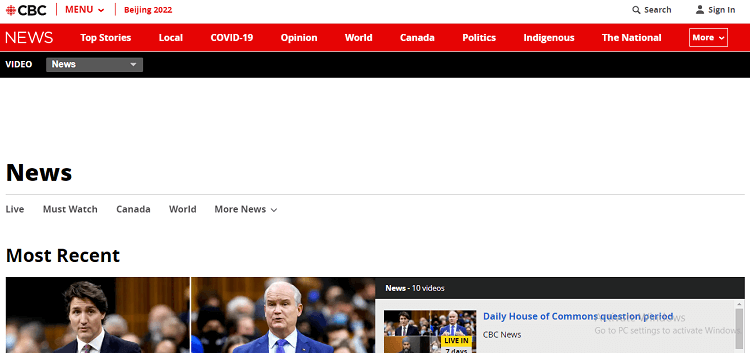 CBC News is a Canadian Broadcasting Corporation founded in 1941. It is a very popular news streaming service as it covers national and international News. It has also collaborated with French-Languages Counterpart, and Radio-Canada. It has some of the best News shows like The National Marketplace, The Fifth State, The investigation with Diana Swain, and more. CBC News covers every News rather it is regarding Showbiz or Politics, Sports or Security issues, International Issues or Business related you can get complete updates by CBC News. It has services available in Ireland paid and Free. You can easily access the CBC News Website and stream Live News or recorded programs as well.
Read more: How to Watch CBC in Ireland
13. SeeZisKids (Kids, Shows)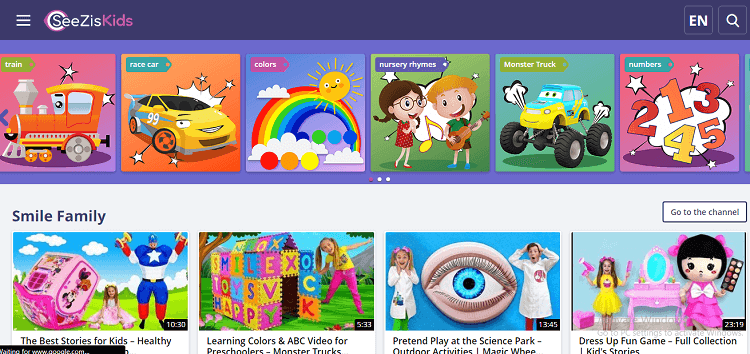 SeeZisKids is the English Cartoon Website that provides cartoon and children rhymes and Poems for Kids and Middle age Children. It is a good source of Learning as well as it teaches kids about Colors, Fruits, Shapes, Numbers, Alphabets, and much more in a very joyful way. SeeZIsKids is an entirely free-to-stream service with tons of different cartoons and educational material for the preschooler and Nursery Kids and even infants enjoy watching the colorful character and joyful music that catches their attention. It is easily accessible around the world including in Ireland.
Read more: How to Watch SeeZisKids in Ireland
Downloads: Android
14. Disney Now (Kids, Shows, Games)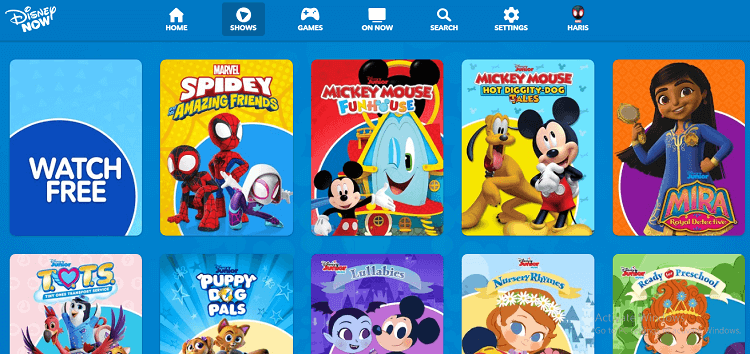 Disney Now is the TV Everywhere Service of Disney Company that includes the content of Disney Channel, Disney Junior, and Disney XD. Along with that this Service also includes Game-Based programs and Disney Radio as well. This makes it an undefined content collection. The content in this service is available for kids of all ages from 1-14 years as it contains Cartoons and rhymes and also mystery serials for school-age children. Of course, don't forget about the games it offers you to play online which admires all the children. This service was launched in 2017 and can be streamed from any corner of the globe all you need is a supporting device and an internet connection.
Read more: How to Watch Disney Now in Ireland
Downloads: Android, iOS, Firestick, Roku, and Samsung TV.
15. Kanopy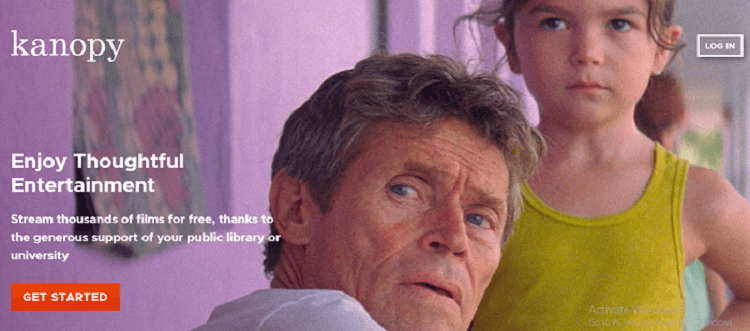 Kanopy is a streaming service for the members of the Public Library or the Faculty Members of University Students as well. It is founded in  2008 in Scarborough, Western Australia, by Olivia Humphrey, Who is an Australian entrepreneur who thought to create an educational tool for universities that help the students and Teaches as well. Kanopy allows users who have a Library registration or University enrollment card to access their service and stream hundreds of movies and documentaries based on learning material including Cultural studies, Science-based, Geological facts, Geographical Impacts, Social Issues, and History events, and almost every subject you want to studenty. Even Psychological Studies. If you are a member of the Ireland public library of students or a member of any Irish University you can access its content for free.
Read more: How to Watch Kanopy in Ireland
Downloads: Android, iOS, Firestick, and Roku.
Conclusion
The people of Ireland have suffered a lot during the pandemic and it is time to put an end to their suffering and boredom while being locked down in their homes. Irish Cordcutters have made a list of streaming services and websites that will help the Irish people to watch the latest Movies, TV Shows, News, and Kids' content for free. These services are perfectly legal and have content for all age groups. Let us know which service or website you like best in the comments section.