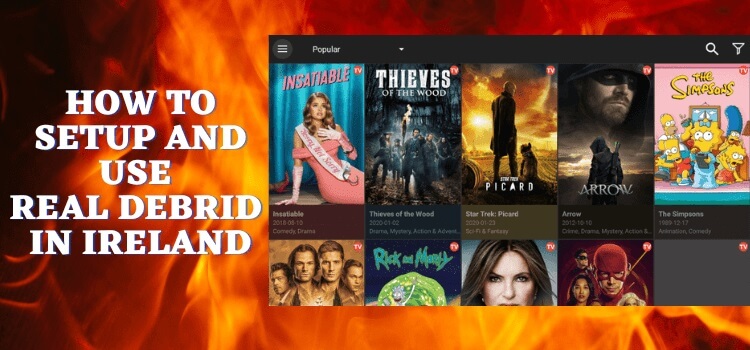 If you are a streaming device user (Firestick, Kodi, ShieldTV, or any other streaming device), then you might have an idea how frustrating it can get to try to watch your favorite TV show or movie on high quality without buffering. 
Slowing down speed by your ISP can cause buffering issues, but another factor that causes buffering issues is due to overloaded servers hosting the broadcasts.
The solution in this situation is to use the Real Debrid service integrated with your streaming applications.
In this guide, we have discussed how to set up and use Real Debrid, its features, price, supported devices, and hosters list. 
---
What is Real Debrid?
Real-Debrid is a multi-hosting service that works with over 50 premium hosters to provide users with the most stable streaming links in HD, 4K, and 1080p. Real Debrid improves your streaming experience by allowing you to stream and download content without restrictions.
It's the most popular multi-hoster, and its main service is to give several HD streaming sources that no other Kodi addon can match. The main purpose of Real Debrid is to provide high-quality links that aren't accessible to the majority of streamers. 
Because free streaming websites and apps are available to everyone, the videos are of poor quality. Due to the high volume of traffic, download speeds are also poor and customers experience a lot of buffering.
Real-Debrid streaming sources, on the other hand, are only accessible to those who have paid for a premium subscription, and so provide faster downloads and streaming, no buffering, and video quality up to 4K and 1080p.
However, using Real Debrid is not always safe and secure it comes with lots of privacy and security concerns. Therefore, if you want to set up and use Real Debrid in Ireland, we recommend using a premium VPN along with the Real Debrid services.
The following are the premium packages offered by Real Debrid: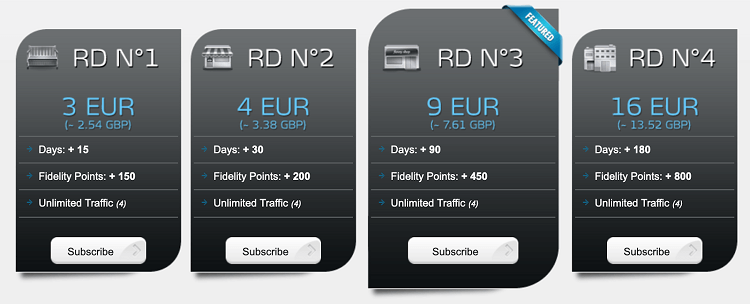 15 Days:

3 Euros. You get 150 Fidelity points

30 Days:

4 Euros. You get 2000 Fidelity points

90 Days:

9 Euros. You get 450 fidelity points

180 Days:

16 Euros. You get 00 Fidelity points
Our Recommended VPN – ExpressVPN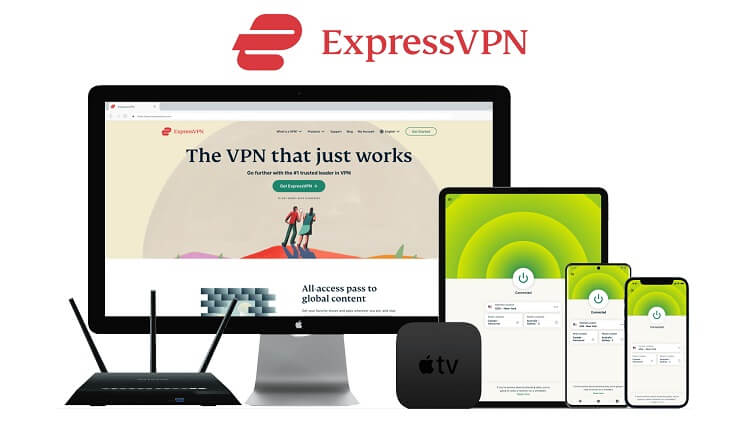 ExpressVPN is our recommended choice when it comes to securing your identity while you set up and use Real Debrid in Ireland because it keeps your online identity safe while streaming.
Get yourself ExpressVPN today and enjoy 3 extra months for free. You also get a 30-day money-back guarantee so use all of its features risk-free for 30-days.
Try ExpressVPN (Black Friday Deal)
---
What are the Features of Real Debrid?
The Real Debrid app offers many interesting features to its premium users. If you want to use and set up Real Debrid, it requires you to subscribe to its premium packages. The package offers you many services, including:
High-speed downloads of up to 100 Mbps

HTML5 Streaming (No plugin needed)

No waiting times or advertising

Firefox, Chrome, and Jdownloader Plugins

DLC, RSDF, and CCF decrypter

Parallel downloads (2)

Unlimited Traffic (4)

Support for download accelerators

Multiple hosters on a single website (3)

AES Secure Downloads
---
How to Subscribe to Real Debrid in Ireland
Before you subscribe with Real Debrid, you must keep your VPN deactivated and only activate it during set-up. 
You can subscribe to Real Debrid in Ireland by following the below-mentioned steps:
Step 1: Go to the Real Debrid website and click on Sign Up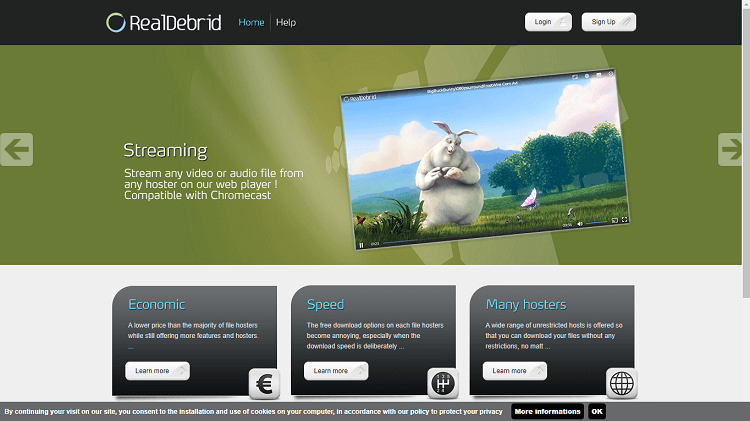 Step 2: Enter personal information and click on Sign Up once again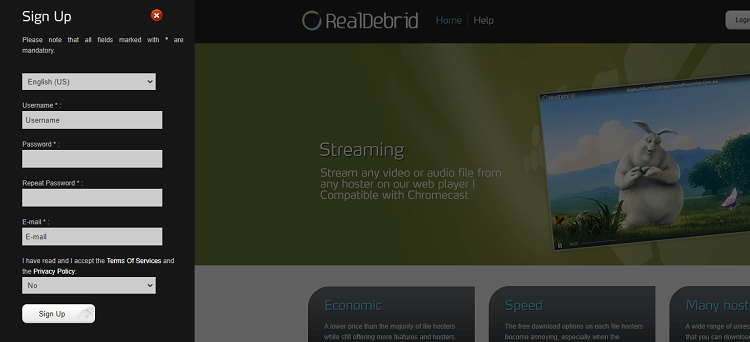 Step 3: The message will now prompt that your registration was successful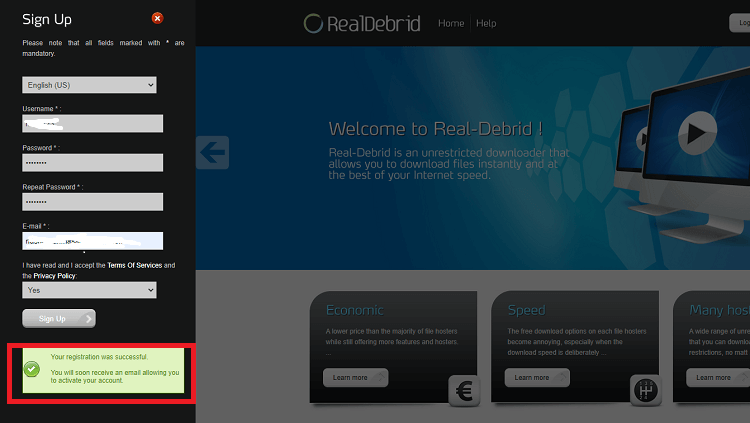 Step 4: Enter your login details to log in with Real-Debrid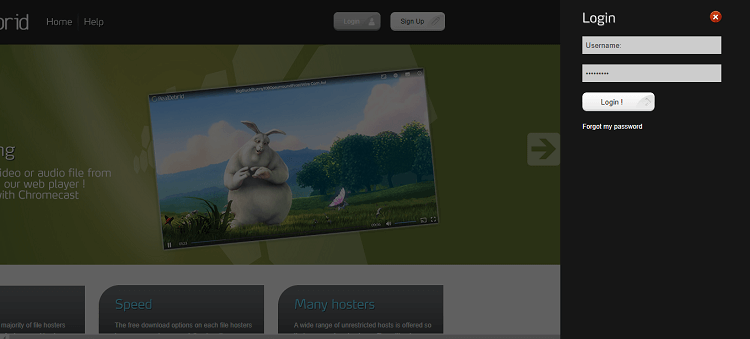 Step 5: Go to the pricing section and choose your plan (minimum $5/mo)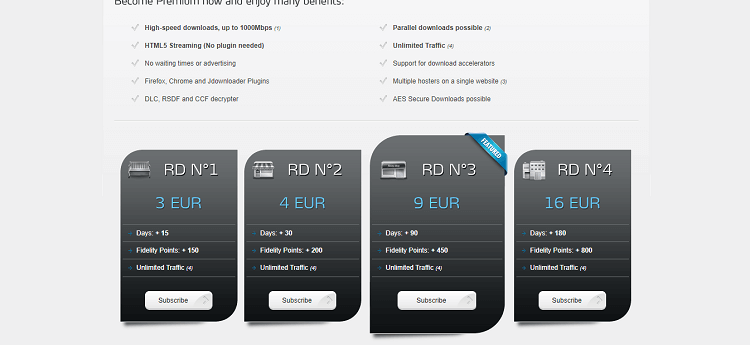 Step 6: Pay your subscription fee by four methods i.e. Credit Cards, Amazon Pay, Cryptocurrency, and Prepaid Tickets. 
Try ExpressVPN (Black Friday Deal)
---
Real Debrid Payment Options
Real Debrid offers a wide range of payment alternatives to its customers. The reason for this is to give its users a sense of security and privacy. 
Users might choose to remain anonymous by using payment options such as cryptocurrency.
The payment options available are: 
Cryptocurrency

Credit cards

Amazon Pay

Pre-paid Tickets 
These all are valid options for purchasing Real Debrid. However, PayPal cannot be used to pay for Real Debrid.
---
How to Setup and Use Real Debrid in Ireland
Once you've subscribed to Real Debrid, you can easily set up and use Real Debrid in Ireland with your favorite streaming services, such as BeeTV or Cinema HD. You can watch your favorite movies or TV series without any buffering on a variety of devices such as your FireStick TV, Desktop computer, or your android phone. 
If you want to stream your favorite content without any buffering and lagging, then you need to follow the steps below:
Step 1: Subscribe to a good VPN service (ExpressVPN is our #1 choice)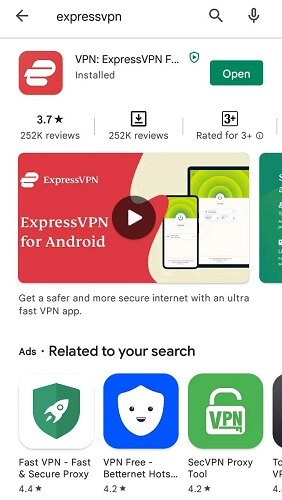 Step 2: Open the VPN app and connect to the American server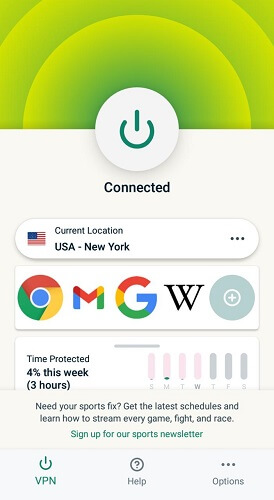 Step 3: Open the BeeTV app on your android phone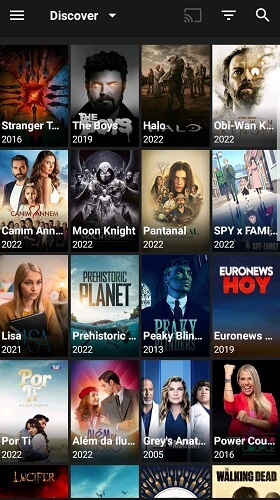 Step 4: Open the Settings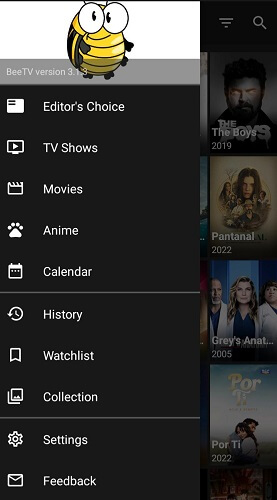 Step 5: Click on Real Debrid Login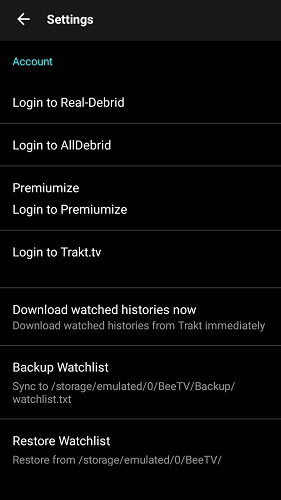 Step 6: Enter the code displayed on your screen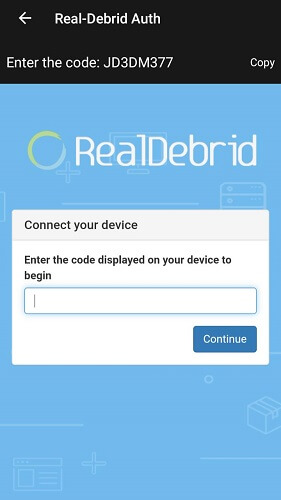 Step 7: Enter your login credentials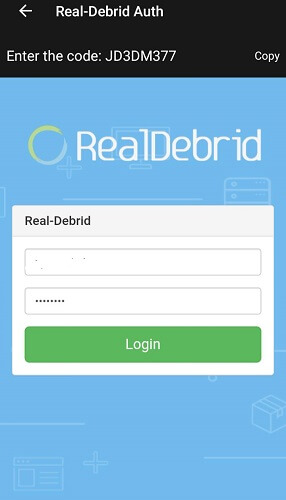 Step 8: Verify your account! Search for a Movie and then select Real Debrid streams and start streaming!
Try ExpressVPN (Black Friday Deal)
---
Real Debrid Supporting Device List
If you want to watch high-quality content such as your favorite TV show or movies without buffering and excessive loading, then using Real Debrid is the key. 
Real Debrid app or add-on works on the following devices:
Amazon Firestick TV

Kodi

Android Phones

Android TV Box

Apple TV

iPhone
---
Is Real Debrid Legal in Ireland?
Real Debrid mentions that the service is 100% legal in all countries including Ireland. Real Debrid only provides links to access all legal and non-offensive content. 
The service also does not offer any stored files for downloading as it does not have the right to provide or stream copyrighted content. Real Debrid is only a multi-hoster service that provides links to stream movies. 
Users should be aware, however, that Real Debrid demands a subscription fee for access to copyrighted blockbuster TV shows and movies.
When utilizing Real Debrid with any Kodi add-on, you'll likely come across unlawful or offensive content. Before using Kodi and Real Debrid to stream material, users should take all necessary privacy and security precautions.
Therefore, we recommend using our top VPN – ExpressVPN to secure your privacy and anonymity while streaming on the internet. 
---
Supported Real Debrid Hosters
Real Debrid is a Multi-Hoster service, meaning it offers its users links from various hoster websites. The following are the Real Debrid supported hosters that provide high-quality links to your favorite movie or shows:
1 Fichier

4Shared

Anzfile

Bayfiles

ClicknUpload

Dailymotion

DDowload / DDL.to

Depositfiles

DropAPK

Easybytez

Fastclick

File.al

Filefactory

Filerio

Gigapeta

Google Drive

Hitfile

Hulkshare

Isra.cloud

Mediafire

Mega

Mixdrop

Mixloads

RadioTunes

RapidGator

Redtube

Scribd

Sendspace

Solidfiles

SoundCloud

Streamtape

Turbobit

Trusfiles

Ulozto

Uploaded

Upstream

Uptobox

Userscloud

UsersDrive

VideoBin

Vidoza

Vimeo
---
What More Can You Watch in Ireland?
If you are a fan of watching movies, TV shows, and other video content, then you'll enjoy watching the following channels and VOD services in Ireland:
---
FAQs – Real Debrid
Is Real Debrid free?
No, previously Real Debrid used to offer free services to its users during specific timings. However, recently Real Debrid has discontinued its free services. If you want to use Real Debrid, you need to subscribe to its premium packages. 
Why Do I Need a VPN with Real-Debrid?
While Real-Debrid has its own security features, utilizing Kodi or other streaming programs without a VPN is always recommended. Real-Debrid does not work with all VPNs. Therefore, we suggest using our recommended VPN – ExpressVPN.
Is it possible to use Real Debrid with several IP addresses?
Yes, Kodi users can use various IP addresses to access Real Debrid connections and use all of the other features. However, Kodi users can only access Real Debrid with one IP address at a time.
Which Real-Debrid Apps are the Best?
BeeTV, Kodi, Syncler, FimPlus, TeaTV, and other Real-Debrid apps are among the best. Almost all streaming programs and APKs, on the other hand, can include Real-Debrid for buffer-free playback.
What is the best way for me to pay for Real Debrid?
Real Debrid can be purchased in four ways: cryptocurrency, credit cards, Amazon Pay, and pre-paid tickets.
Is it possible to pay Real Debrid using PayPal?
Real Debrid cannot be paid with PayPal. Real Debrid exclusively accepts cryptocurrency, credit cards, Amazon Pay, and prepaid tickets as payment methods.
What IPTV apps can I use with Real Debrid?
Real Debrid does not support IPTV apps; it only supports movie and TV show apps like Cinema HD, BeeTV, and others.
---
Conclusion
Real Debrid is a multi-hoster service that offers high-quality links so you can watch unrestricted and unbuffered streaming of your favorite TV shows and movies. 
Even though using Real Debrid is legal in Ireland, we suggest using our recommended VPN – ExpressVPN. ExpressVPN secures your identity and protects your data when you set up and use Real Debrid in Ireland.