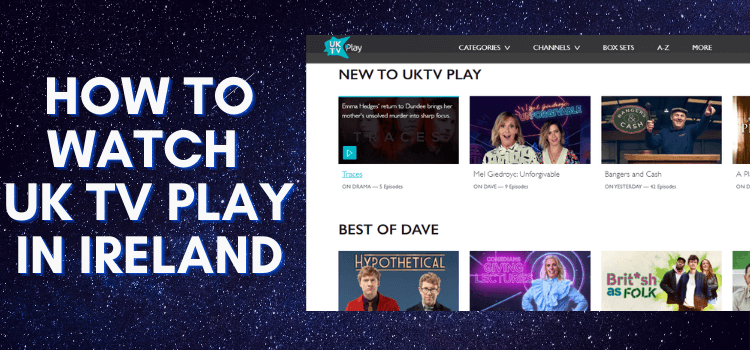 UKTV Play is a UK-based free-to-air multi-channel broadcasting service owned by BBC and is restricted to UK residents only. The only way you can watch UKTV Play in Ireland is through a reliable VPN service.
The service is free for people accessing it in the UK, but if you try to use it while in Ireland (without a VPN), you will encounter an error message like the one below:
"Error Code 2: Could not download the video. Please use the retry button."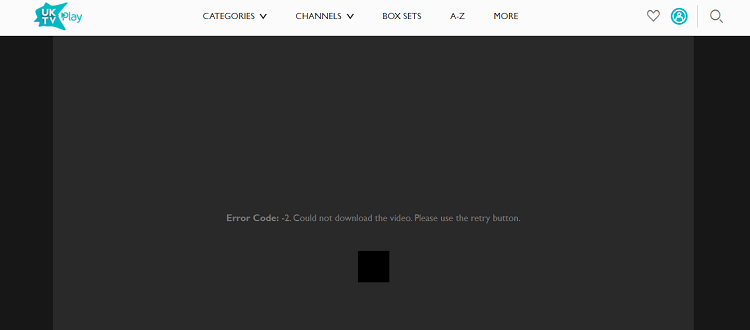 I was able to unblock UKTV Play in Ireland with the help of ExpressVPN (Our recommended choice) and other best VPNs that I have mentioned in this guide.
Our Recommended VPN – ExpressVPN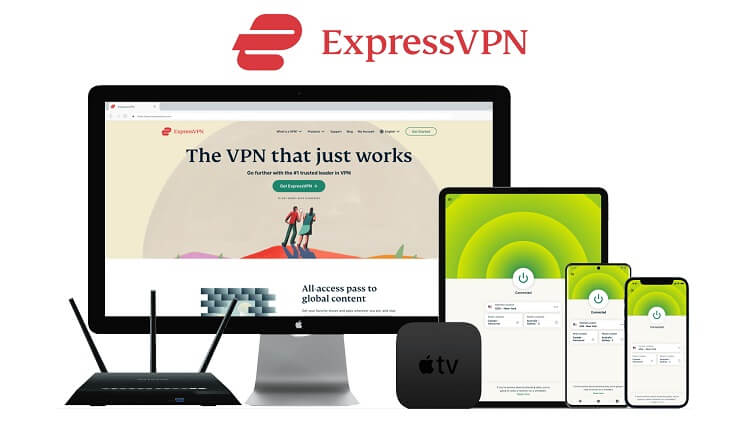 ExpressVPN is our recommended choice when you want to access UKTV Play in Ireland as it bypasses its geo-restrictions without a hiccup and keeps your online identity safe while streaming.
Get yourself ExpressVPN today and enjoy 3 extra months for free. You also get a 30-day money-back guarantee so use all of its features risk-free for 30-days.
Try ExpressVPN (Black Friday Deal)
---
How to Watch UKTV Play in Ireland
As you are aware, UKTV Play is not accessible outside the premises of the UK, that is why you will need a VPN. It is a free-to-air service but requires account registration to stream the shows. 
Follow the steps below to register and watch UKTV Play in Ireland:
Step 1: Subscribe to a reliable VPN service (ExpressVPN is our #1 choice)
Step 2: Download and Install the VPN app on your device
Step 4: Connect to a UK Server (e.g. Manchester)
Step 5: Open the UKTV Play website and click on "categories" from the menu bar to choose what you want to watch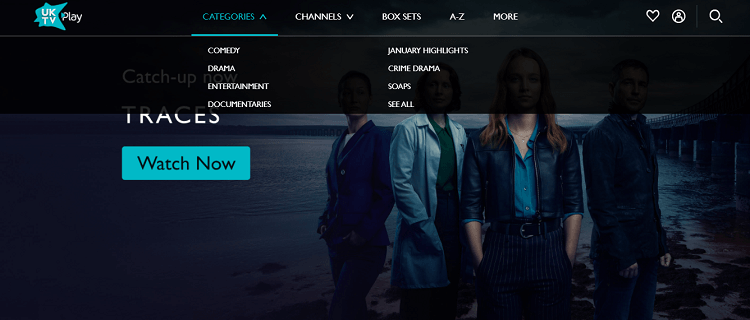 Step 6: Click on a show to watch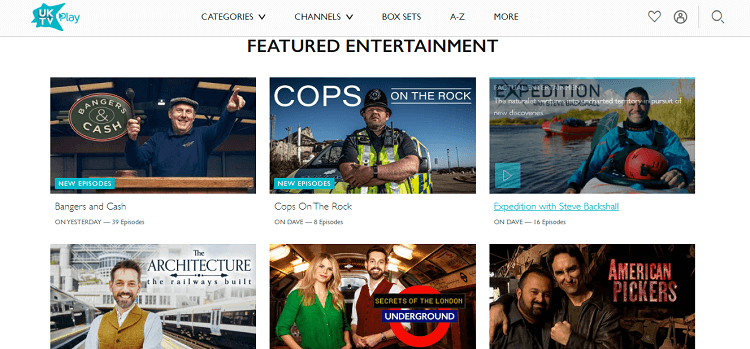 Step 7: Click on the play button at the bottom left corner of the video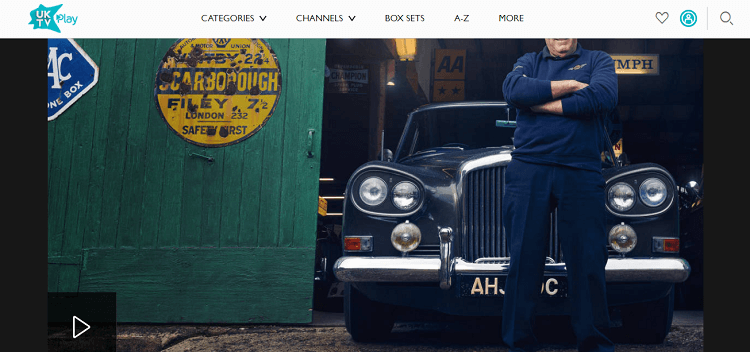 Step 8: It will ask you to register yourself. Click on "register"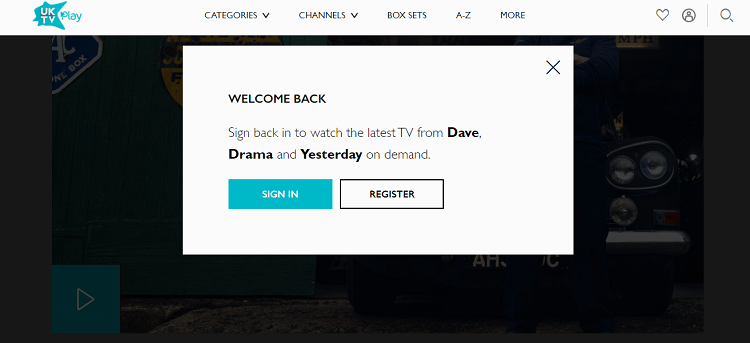 Step 9: Fill in with all the required information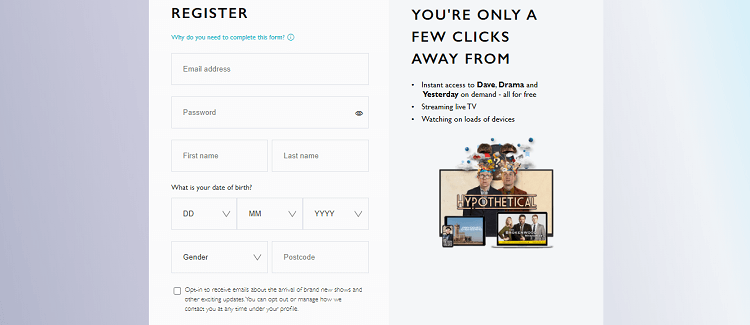 Step 10: It will ask you to confirm your email. Click on the "Continue" button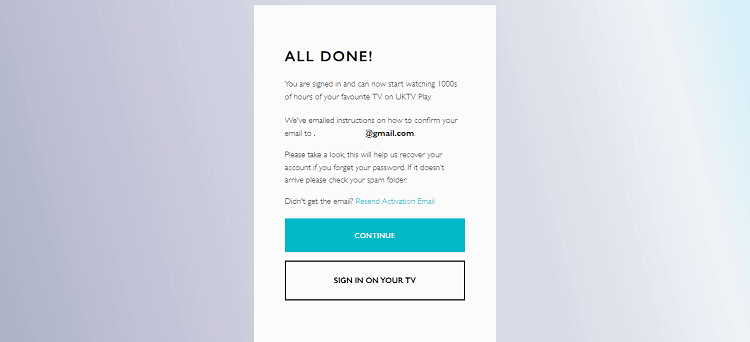 Step 11: Go to your mailbox and confirm your email by clicking on "click here"

Step 12: Now login and enjoy streaming the shows
Try ExpressVPN (Black Friday Deal)
---
What are the Best VPNs to Watch UKTV Play in Ireland?
We tested 35+ VPN services and came to the conclusion that there is no overall top VPN since they have distinct features that make them better than each other in different ways.
However, when it comes to watching UKTV in Ireland, we have shortlisted the 3 best ones to choose from. All three of them are great in their own way:
---
1. ExpressVPN
ExpressVPN is at the top of our list due to its exceptional performance in unblocking UKTV Play besides other geo-restricted channels in Ireland. It has 3 servers in the UK (Wembley, London, Docklands). These servers help you in unblocking UKTV Play and other prohibited websites in Ireland.
ExpressVPN is renowned for its lightning-fast speeds and excellent encryption (256-bit encryption), which makes it the finest VPN available. This VPN can be used by five different devices from one account at the same time to access the content.
The ExpressVPN subscription costs €6.42/month. It's a bit pricey in comparison, but the features make up for it. There's also a 30-day money-back guarantee.
---
2. Surfshark
Surfshark is another VPN that we recommend the most to the audience. It comes with a 2-year subscription plan that you can subscribe to for $2.30/month. It is highly affordable and reasonable compared to its amazing features.
This single subscription allows you to use the VPN on as many devices as you want to at the same time. This means that it doesn't matter if you're in the UK or Ireland, you, your family and even your friends may all stream UKTV at the same time.
At Surfshark, there are 3200+ servers in total available in 65 countries, many of which are UK servers (London, Manchester, Glasgow), so you will have plenty of options when it comes to watching UKTV.
It offers the No Borders mode which unblocks the site in prohibited areas, and also a camouflage mode, which allows you to conceal from your ISP.
---
3. NordVPN
NordVPN, an excellent VPN provider, is available for just $3.29/month for a 2-year membership plan, making it a great alternative to Surfshark in terms of money value.
If you're curious about how this is compared to Surfshark's server count, then know that NordVPN has over 440 UK servers and a total of 5441 servers worldwide.
Because of its larger worldwide server count, you'll have more access to services all around the world. And, because of the abundance of UK servers, you'll always have alternatives in case one has some issue.
Other than that, its CyberSec feature will protect you from unsafe sites and malware content, and its double-protection will provide you with an extra layer of security.
And, like the other VPN providers, NordVPN comes with a 30-day money-back guarantee, allowing you to try it out before purchasing it.
---
Why do you need a VPN to Unblock UKTV Play in Ireland?
The main reason why UKTV Play is restricted outside of the UK is because of licensing agreements and copyright ownership. If you try to access UKTV Play from Ireland, you will receive an error message that says:
"Error Code 2: Could not download the video. Please use the retry button."
The only way to watch UKTV Play in Ireland is by using a reliable Virtual Private Network is because a VPN easily bypasses UKTV Play restrictions. When you connect to the UK server of a VPN, it assigns you a UK IP address and hides your original Irish IP address.
The streaming service such as UKTV Play in this case will assume that you're from the UK and grant you access.
---
What Can You Watch on UKTV Play in Ireland?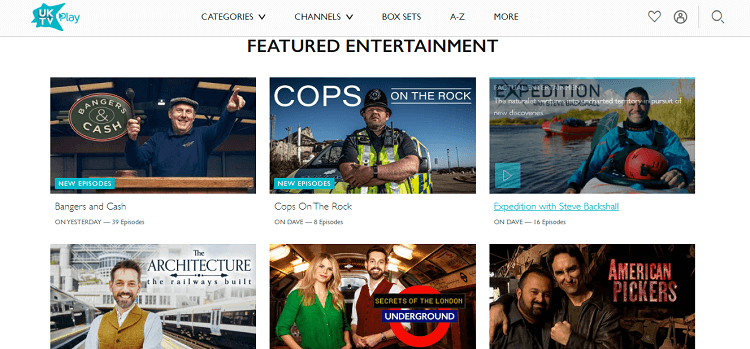 Are you confused as to what you can watch now that you've access to UKTV Play in Ireland? Well, here are the few popular shows on UKTV Play:
Traces

A place to call home

Bangers and Cash

Classic Casualty

Last of The Summer Wine

Classic Eastenders

Bad Girls
---
How to Watch UK TV Play on Mobile Phone
Here's how you can access UKTV Play from your Android or iOS device:
Step 1: Download and Install ExpressVPN from the Play Store/App Store
Step 2: Connect to the UK server, i.e. Docklands
Step 3: Download the UKTV Play apk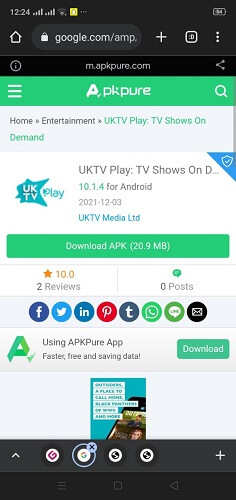 Step 4: Install the app from the APK file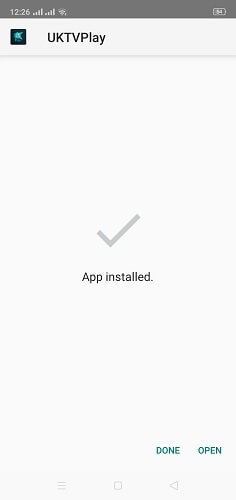 Step 5: Sign-in using your credentials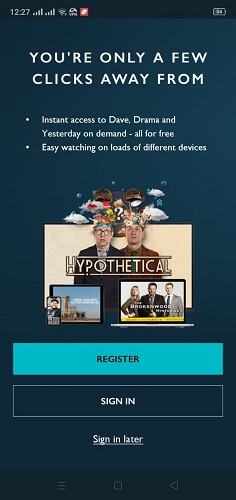 Step 6: Go to the categories section from the menu bar at the bottom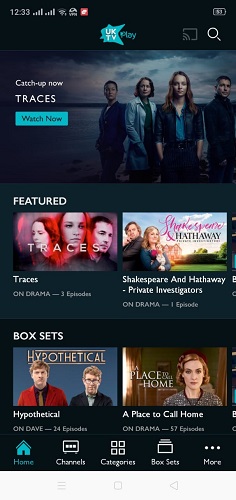 Step 7: Choose a category, e.g, Drama, Entertainment, etc., and click on the "view entertainment A-Z" button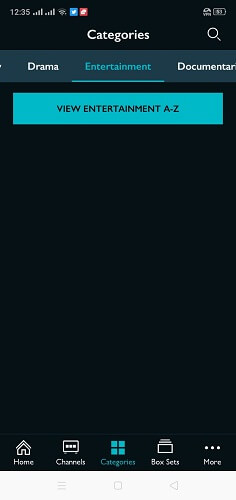 Step 8: Choose a show to watch
Step 9: Click the Play button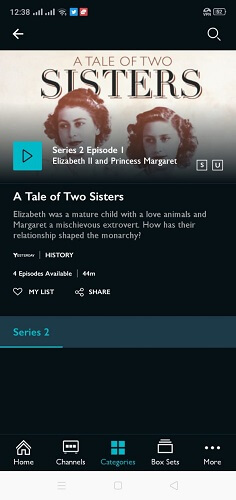 Step 10: Enjoy Streaming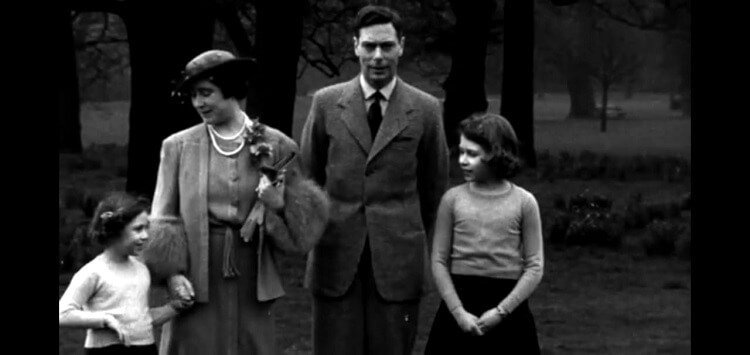 ---
UKTV Play Device Compatibility
UKTV Play is compatible with all of these devices:
Windows

Mac

Linux

iOS

Android

Xbox One

Roku

Amazon Fire Sticks and Fire TVs

Apple TVs

Samsung Smart TVs

Sony Bravia YouView 2020 Devices

Chromecast

Virgin Media

Freesat
---
FAQs – UKTV Play
Is UKTV Play a premium service?
No, UKTV Play is absolutely a free-to-air service, you only need to signup or register yourself for free in order to watch the shows. It requires only basic information, like your email, date of birth, etc.
Why is it necessary to register on UK TV Play?
Registration is required to provide you relevant shows according to your interest, they monitor you to see what you are interested in and offer you shows accordingly. Besides, you can watch thousands of movies and shows over UKTV Play without any restriction.
How Can I Get UKTV Play on My TV?
If you want to access UKTV Play from your smart TV, you might be able to obtain UKTV Play on it because not every smart TV has that option. UKTV Play is available on most new Samsung Smart TVs.
If your Smart TV doesn't offer UKTV Play in its built-in capabilities, you can connect portable devices like Amazon Fire Sticks and Chromecasts to offer you accessibility to UKTV Play.
---
Bottom Line
UKTV Play is free of charge streaming service that is available in the United Kingdom only. A VPN seems to be the only source to watch UKTV Play in Ireland.
All you have to do is register with UKTV Play, which only requires your general details and a valid UK postal code, which you can quickly get from the internet.
With that, you may now watch UKTV in Ireland without fear of it being blocked, or any other overseas provider being blocked for that matter.
However, not all VPNs assure you a good service. We recommend ExpressVPN to stream UKTV Play with a guarantee of privacy and security.