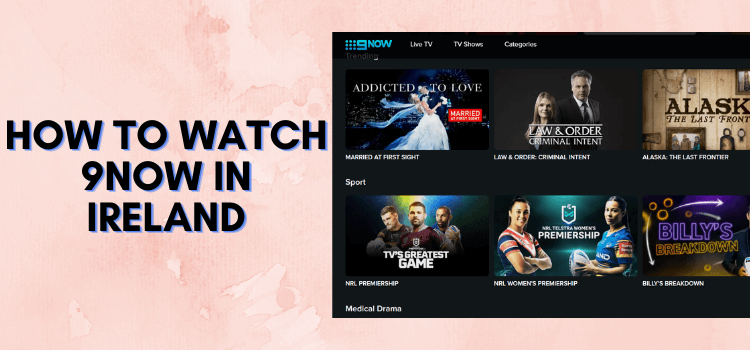 9Now or Channel 9 is Australia's major free-to-air commercial platform. It is a video-on-demand and catch-up TV service of the Nine Network. 9Now requires free signup to stream its content. 
Unfortunately, 9Now is only available in Australia. The only way to watch 9Now in Ireland is with the help of a reliable VPN and connecting to the Australian server.
Even if you try to access 9Now in Ireland without a VPN, you will come across the following error message:
"Geoblocked
Access is not available in your area." I was able to unblock 9Now in Ireland by using ExpressVPN (our recommended choice) and the other best VPNs that I have mentioned in this guide.
Our recommended VPN – ExpressVPN
ExpressVPN is our recommended choice when it comes to unblocking Channel 9 (9Now) in Ireland as it easily bypasses its geo-restrictions and keeps your online identity safe while streaming.
Get yourself ExpressVPN today and enjoy 3 extra months for free. You also get a 30-day money-back guarantee so use all of its features risk-free for 30-days.
Try ExpressVPN (Black Friday Deal)
---
How to Watch 9Now in Ireland
9Now is a free-to-stream service only available in Australia. If you want to watch 9Now in Ireland, you need to follow the below steps
Step 1: Subscribe to a safe VPN service (ExpressVPN is our recommended choice)
Step 2:  Download and Install the VPN app on your device
Step 3: Connect to the Australian server (i.e. Melbourne)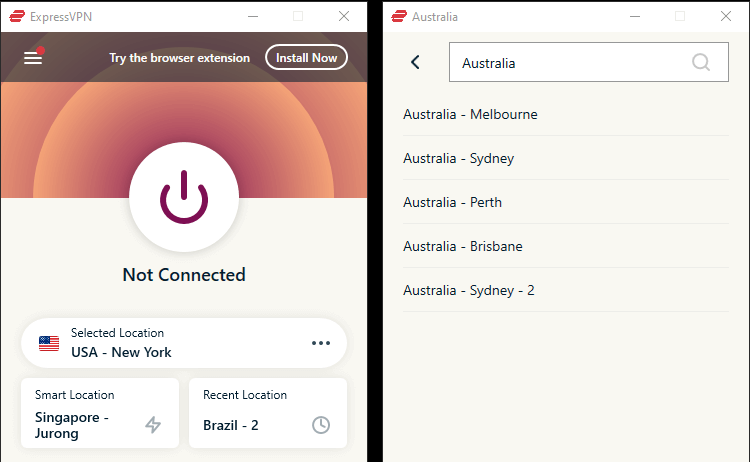 Step 4: Go to the 9Now website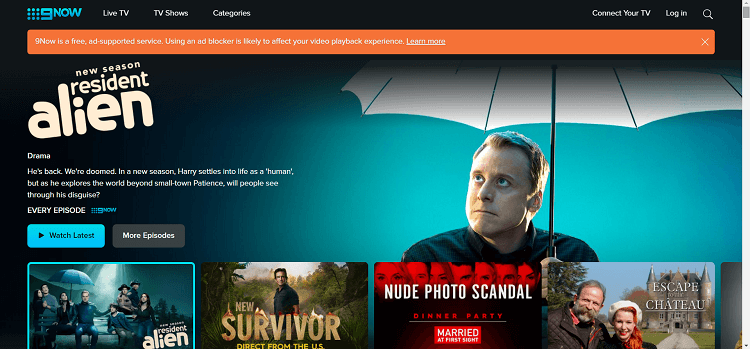 Step 5: Under the TV Shows section you will find a variety of TV Series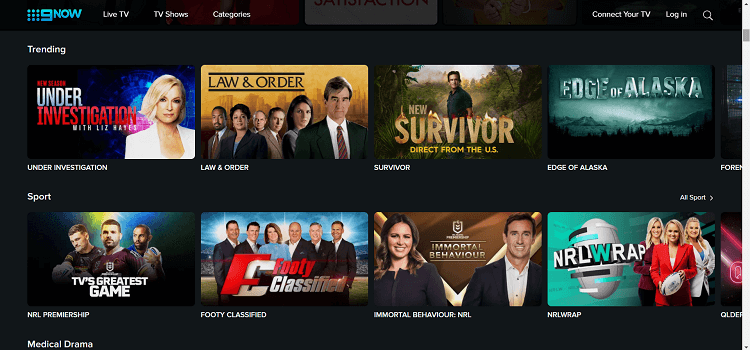 Step 6: Choose the show you would like to watch i.e. La Brea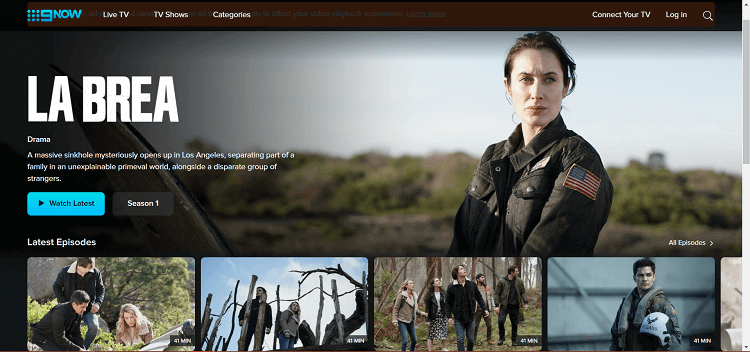 Step 7: Next step would be to sign in or sign up to watch anything. Sign-up is free!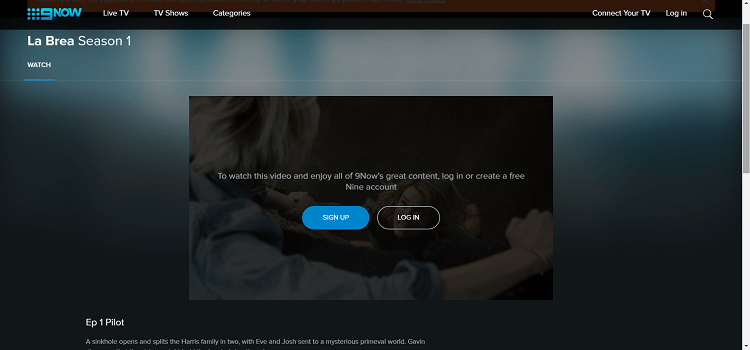 Step 8: Enter your email and click Continue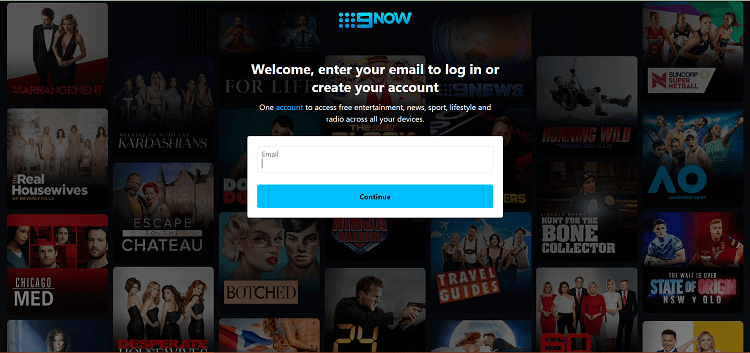 Step 9: Enter the details and click Create Account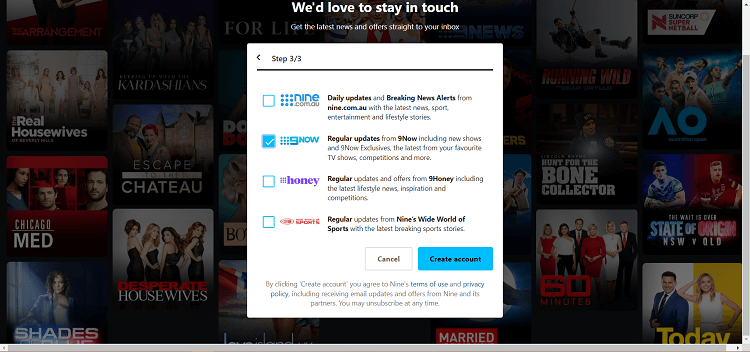 Step 10: A verification code will be sent to your email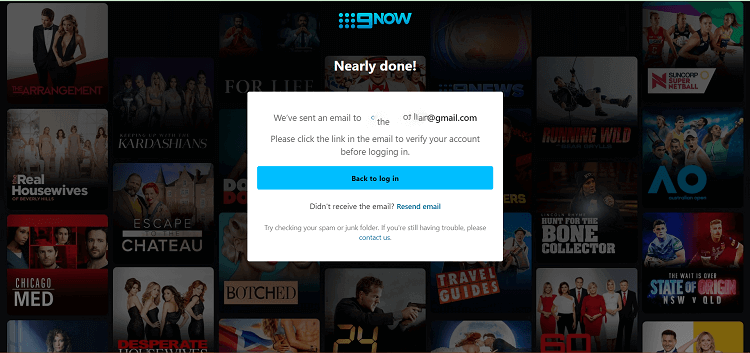 Step 11: Once your email is verified, you may now start streaming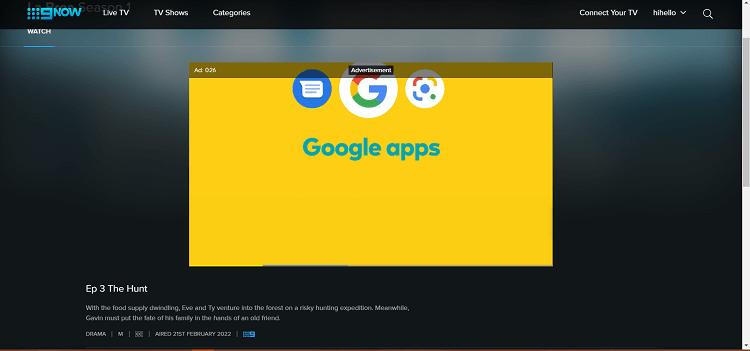 Step 12: Steam and enjoy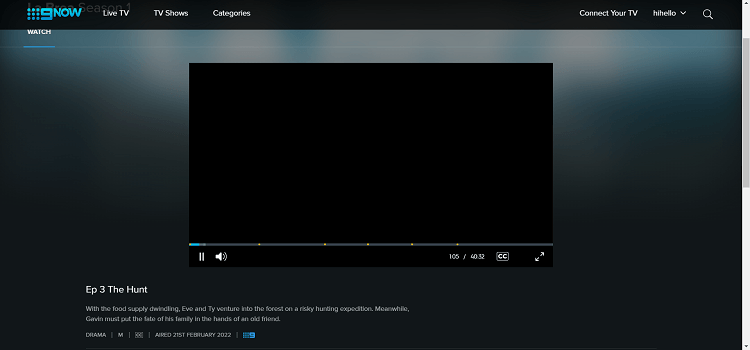 Try ExpressVPN (Black Friday Deal)
---
3 Best VPNs to Stream 9Now in Ireland
We tested over 35+ VPNs to see whether they were able to bypass the geo-blocking set by 9Now. We found the three best VPNs that were able to overcome restrictions in a single try. 
The best three VPNs to stream channels outside of Australia are:
---
1. ExpressVPN
ExpressVPN is our #1 choice to stream popular 9Now shows in Australia. ExpressVPN has 3,000 servers in 94 countries, out of which 5 are located in Australia. You can now play 9Now in Ireland by connecting to any of the 5 servers present in different cities of Australia, such as Sydney, Melbourne, Perth, and Brisbane. 
ExpressVPN provides you lightning-fast speed (89 Mbps out of 100 Mbps) along with unlimited bandwidth. By using our most recommended VPN – ExpressVPN, you can not only watch channel 9 in Ireland but also protect your data.
With ExpressVPN you can unblock other streaming services apart from 9Now as these include Channel 4, My5, Pluto TV, CTV, etc. ExpressVPN provides its services at a monthly subscription rate of €6.42/month (3 Months Free) with a 30-days money-back guarantee. 
Try ExpressVPN (Black Friday Deal)
---
2. Surfshark
Surfshark is another one of our recommended VPNs to access 9Now in Ireland. It has servers in 5 different Australian locations, such as Sydney, Melbourne, Perth, Brisbane, and Adelaide. To stream your favorite show and live content available on channel 9, you need to connect to the Australian server.
Surfshark provides great speed and a chance to browse anonymously on the internet. It protects your data with industry-leading security. Surfshark provides two-factor authentication to keep user data secure. 
All of these amazing features of Surfshark can be availed by paying $3.49/month. It also provides a 30-days refund policy. By using a single Surfshark account, you can connect to an unlimited number of devices. 
---
3. NordVPN
NordVPN is also among the best VPN that works in Ireland. It can easily bypass the geo-restrictions and unblock channel 9 in Ireland with its 190+ servers in Australia at 5 different locations. 
NordVPN offers the most protection among all of the mentioned VPNs due to its double VPN protection feature. It also has a no-log policy, WebRTC leak protection, and a customized kill switch.
You can connect up to 6 different devices by subscribing monthly at the rate of $3.49/month. NordVPN also offers a 30-days money-back guarantee just like other VPNs.
---
Why Do You Need a VPN to Watch 9Now Outside of Australia? 
9Now or Channel 9 is a free Australian streaming platform where you can watch live and on-demand content. However, channel 9 content is geo-restricted and can only be watched within Australia.
If you try to stream 9Now outside of Australia, an error message will appear on your screen. This is because 9Now does not have international streaming rights. All contents of 9Now are protected by copyright ownership and licensing agreement that prevents the service from streaming content in different countries. 
To watch 9Now in Ireland you will need to mask your IP address by using a VPN. A VPN is a tool that is used to change the user's IP address from one country to another to allow private and anonymous surfing.
However, not all the VPNs that we tried were able to unblock 9Now in Ireland; only the ones we recommended were successful. 
---
Why 9Now Does Not Work With Some VPNs?
If you try to access 9Now from abroad using a VPN, sometimes it does not work and shows the following error message:
"This video is restricted from playing in your current geographic location"
This is because the VPN you are using to stream in Ireland is blocked by 9Now. If this issue arises, you can change your VPN provider or try connecting to a different server.
To play 9Now content in Ireland without any issues, use the VPNs we have recommended. These VPNs provide an uninterrupted connection.
---
What Channels Does 9Now Offer?
9Now is an Australian free online-video streaming platform that provides access to live stream the following channels:
Channel 9

9Gem

9Go!

9Life

9Rush

9News
---
What Devices Can You Watch 9Now On?
9Now is available to stream on various devices, such as Computers, Mobile phones, SmartTV, Tablets, etc. To play 9Now in Ireland, you need to download ExpressVPN on your device. ExpressVPN is available to download on Android, IOS, MAC, Windows, Chromebook, and Kindle Fire.
Once you have downloaded a reliable VPN, you can stream 9Now on the following devices:
Devices with

iOS 12+

and above.

Devices with

Android 5.0+

and at least

1GM of RAM

Chromecast

Samsung Smart TV

Android TV with

Android 7.0+

Sony Android TV

TCL TV

Kogan TV

Vodafone TV

Nvidia Shield+

FreeviewPlus

Apple TV

Telstra TV

Fetch TV

PS4
---
What Shows Can I Watch with 9Now?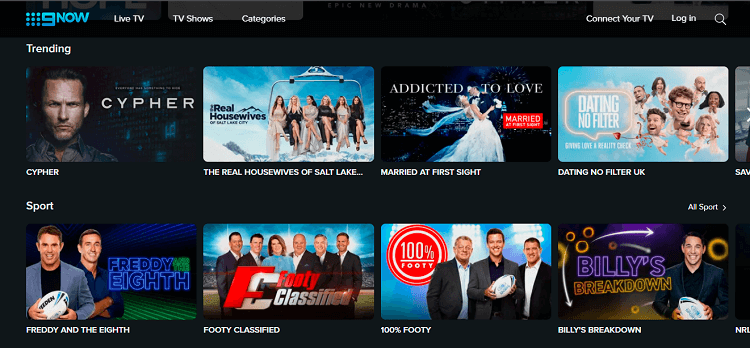 9Now has a variety of content to watch from. You can stream your favorite shows live or you can also watch on-demand.
The content available on 9Now is categorized to make the experience easier for users. The categories include Adrenaline Rush, Aussie Drama, Comedy, Complete Season, Family, Documentary, Entertainment, and much more.
Some of the most popular shows to watch on 9Now are:
Married at First Sight

Law & Order: Criminal Intent

Alaska: The Last Frontier

Saving Hope

Satisfaction

House

Mercy

Telenovela

Resident Alien

Prison
---
How to Watch 9Now on Mobile Device?
Follow the below steps if you want to enjoy your favorite 9Now shows on your mobile phone from any country:
1. Download ExpressVPN on your Device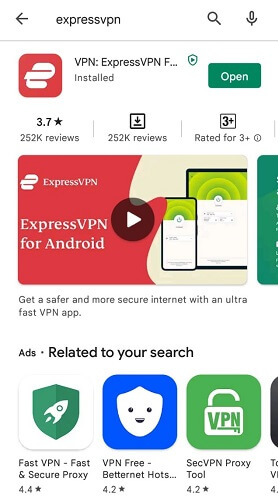 2. Connect to the Australian server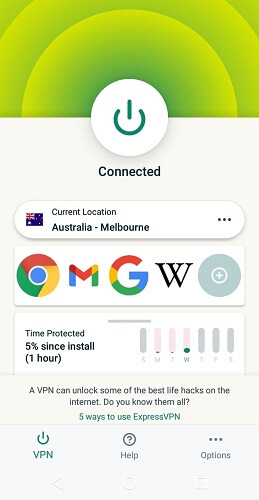 3. Download 9Now app from Playstore or apk file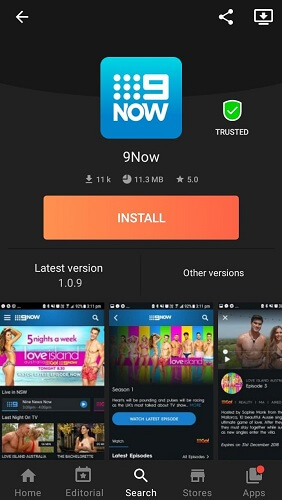 4. Install the application from apk file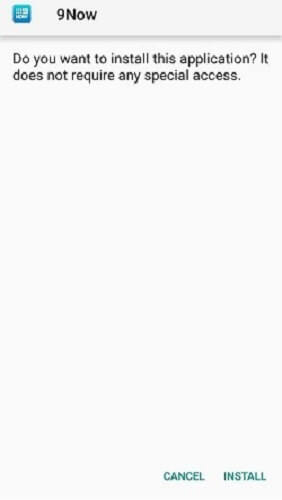 5. Open the app and select the channel or category you want to watch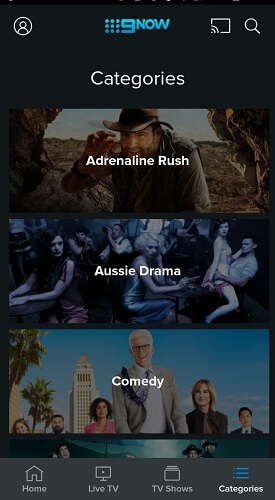 6. Create your account and log in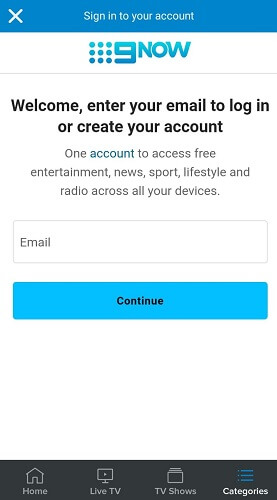 7. Choose your favorite show and select Play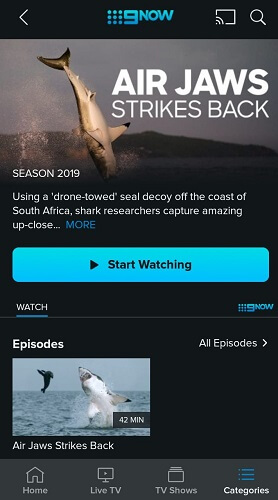 8. Enjoy streaming!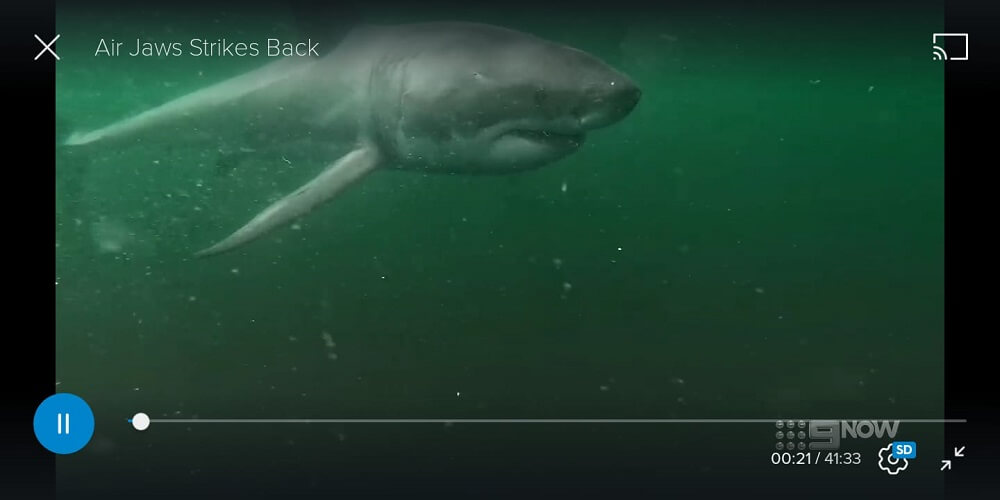 Try ExpressVPN (Black Friday Deal)
---
FAQ – 9Now
Does 9Now require a subscription?
9Now is simple to use and completely free. To get started, you must first create a Nine account. You may receive access to awesome exclusives from Nine by registering for free.
Why do I need the 9Now app to watch full episodes from TV Shows?
To ensure that you can watch your favorite shows, several 9Now show providers need them to utilize DRM to distribute their content. Use the 9Now iOS and Android apps to get the greatest play experience on your tablet and mobile device. 
Why does it take so long for 9Now to load?
If your video takes a long time to load, a security system may be preventing it from playing. Simply add the 9now.com.au site to your list of trusted sites in your browser's firewall settings to check your security settings.
---
Conclusion 
9Now or Channel 9 is an Australian platform to stream live and recorded content. This site is blocked from other locations around the globe due to content ownership.
If you want to watch 9Now in Ireland, you need to take help from VPN. A trusted VPN will change your Irish IP address to an Australian one, so you can access 9Now without any trouble. 
There are different shows available for you to enjoy on 9Now. Let us know your favorite one in the comments section below.